In my previous post we explored the growth of wireless and how demand and capacity issues have caused the industry to rapidly evolve. Naturally, that sparked my interest to explore our dependence on wireless coverage and our necessity to stay connected.
Every day we walk around with smartphones, tablets, and laptops, often connected to multiple devices at one time. According to a poll the 'TIMES' carried out, 84% of respondents worldwide claimed that they could not go a single day without their mobile devices and 50% stated that they sleep with their devices.
Originally cell phones gave us the convenience of not have to rely on a LAN or hardwired connection, allowing us to talk to each other on the go. Now these devices serve a higher purpose. Modern devices are used for data processing and transmission just as much as talking. Five billion people rely on their cellphones for business and personal use. 'TIMES' revealed, 26% say that they feel guilty if they do not promptly respond to a work-related message outside of normal work hours. Major enterprises such as Apple, Google and Amazon utilize massive communication resources. These networks provide users with information from data centers and cloud computing services no matter where we are. It is no wonder that computers and other devices have developed a new technology dependence factor to our lives.
According to the J.D. Power 2015 U.S. Wireless Network Quality Performance StudySM, with a year-to-year growth in the rate of texting and Web use, there is a paralleled growth rate of network problems attributed to issues with data services, including mobile broadband and Web. This study is based on 10 problem areas of the customer experience including: dropped calls; calls not connected; audio issues; failed/late voicemails; lost calls; text transmission failures; late text message notifications; Web connection errors; slow downloads; and email connection errors. Performance issues are measured as problems per 100(PP100) connections and according to the study, problems with mobile Web connections and loading times have steadily increased from 14 PP100 in 2014 to 17 PP100 in 2015. Additionally, the volume of texting has also increased from 42 texts sent/received over a 48-hour period to 47 texts.
From looking through the study carried out by J.D. Power, we can see the network quality performance per region in relation to the four major carriers (Verizon, AT&T, T-Mobile and Sprint). The Mid-Atlantic region including Washington, D.C., has an average of 11 PP100 with the Northeast region including New York City, Philadelphia and Boston averaging 13 PP100 where the two top providers (Verizon and AT&T) show the least number of issues in all six regions of the United States.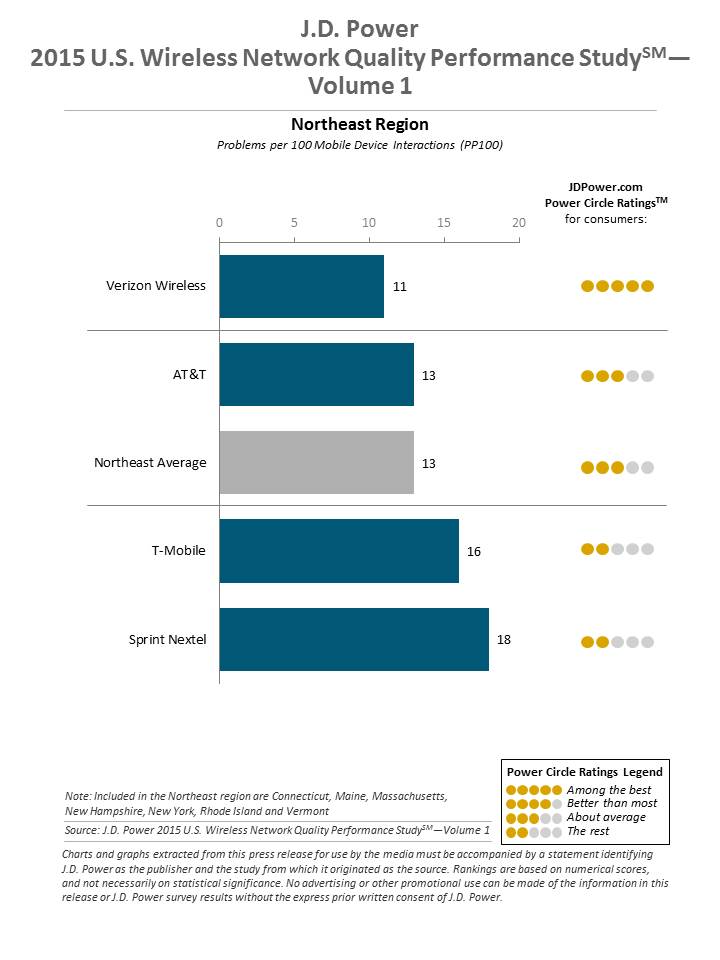 We have developed into 'global mobile nomads'; constantly texting, emailing and using mobile video. In order to ease the strain that this is putting on our cellular networks, scalable solutions need to be implemented in order to deal with capacity. Constantly being on the move means that we are dependent on the nearest cell tower or Wi-Fi hot spot. As the number of devices per person increases and more and more people plug in, bandwidth will become exceedingly scarce and major infrastructure changes will need to be made.